Moyal: Time for action to prevent workplace deaths
Itzhak Moyal - Chairman of the Construction Workers' Union and Associated Industries
Dec 15, 2022
These days we are marking national awareness month for safety at work, a topic of utmost importance. Since the beginning of the year, 24 workers have died on construction sites in Israel. But even if this figure indicates a decrease compared to previous years, the number of work accidents has increased. Therefore, we must not remain silent and stop the daily war against this terrible phenomenon.
Every employee is a whole world. Every worker has a home, a family, and parents, and our job is to take care of each and every one of them. So, as we mark the national awareness month for safety at work, we wage war for all of us, not just the construction workers.
The causes of fatal accidents at construction sites are varied. A Magen David Adom report shows that since the beginning of the year, 86 work accidents have been reported, of which 67 were cases in which workers fell from a height and the rest as a result of injuries from forklifts, tractors and heavy objects, electrocution, and more.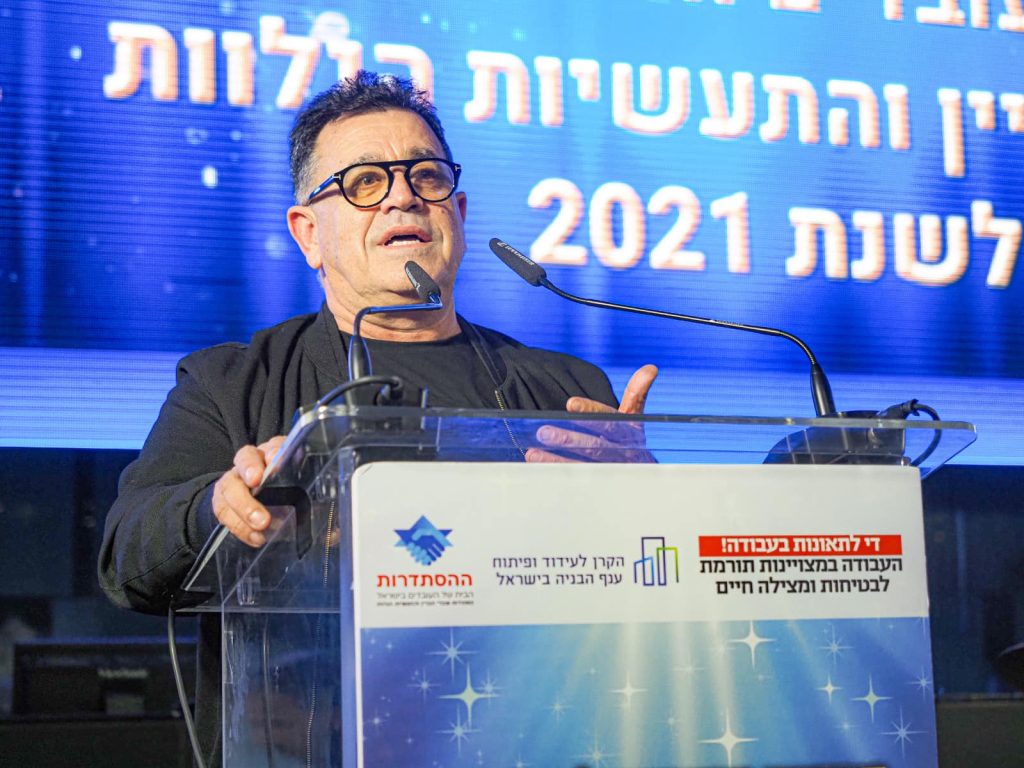 Several reasons can explain the many and varied accidents that occur on construction sites: failure to adhere to safety procedures and negligence, lack of sufficient enforcement by the state, construction sites that work without forepersons, subcontractors without a registered contractor's license, crane operators with fake licenses, and more.
At the Construction Workers' Union and Associated Industries, in cooperation with the Foundation for the Encouragement and Development of the Construction Industry and the Safety Institute, we work around the clock to bring about real change among workers and employers. In the last year, we managed to promote several dramatic moves that will bring about change when, among other things, we organized most of the crane operators intending to eradicate the phenomenon of illegal employment. This phenomenon means that untrained workers are employed for "black" money and without records, and work long hours in violation of the law on working hours and rest, sometimes 14 and 16 hours a day.
In addition, we fought against manpower staffing companies that employ workers without certificates. In many cases, the certificates exist, but they are bogus, or workers are given a certificate of qualification without having passed the practical legal qualification. How serious is it? Imagine that there were fake car licenses in the State of Israel or driving licenses given to young people without passing a test. Would we let something like this happen without any enforcement? This is the situation we are fighting in the construction industry. Dozens of heavy equipment operators work without practical certification, supervision, or professional testing, and all without understanding the safety procedures. The government turns a blind eye, the police – with limited tools at their disposal – cannot provide an adequate response, and the ones who pay the price are the workers and their families.
The month of awareness, which the Foundation for the Encouragement and Development of the Construction Industry organized under CEO Moshe Ben Zaken, is a declaration of intent to continue. We at the Histadrut join the call to persevere in the fight against the phenomenon of accidents on construction sites. We will not be silent, and we will not stop fighting until we see zero casualties.
This war is ours. We must not think that it belongs to one branch. This is a phenomenon that spills over everywhere.
With the beginning of the new government's term, we intend to reach all the committees and demand that all the decisions made in the past and not implemented be carried out. We will fight the entry of improper equipment into Israel. We will stop the activity of construction companies that do not adhere to safety procedures. We will ensure that there are safety assistants at each of the 14.5 thousand construction sites in Israel, and we will ensure that every site has standard scaffolding with a European standard mark that prevents falls. Only in this way will we be able to prevent unnecessary workplace deaths.
I expect every reasonable person, every CEO of a company, every contractor, and everyone who deals with mechanical engineering equipment, in renovations and construction, and industrial infrastructures, to cooperate with the awareness month so that we save human lives and prevent further casualties.
Just this week, two more workers lost their lives, at a construction site in Givat Ze'ev, because of a scaffolding that was damaged or not connected properly. The incident left two families devastated and others seriously injured, and this is another case that proves that awareness month must lead to a change in trend. I hope so.
Might interest you as well