The industrial democracy conference discusses avenues for employees' representation in decision-making in Israeli companies.
The Histadrut and Bank Yahav are holding a conference on workers' representation and participation in the future world of work this weekend. The conference is being attended by directors from large Israeli companies, Histadrut workers, lawyers, and activists who believe in the importance of promoting workers' representation on company boards.
The event is being led by Tomer Reznik, Deputy Chairman of the Histadrut and Chairman of the Division for Industrial Democracy in the Histadrut, and his team.
With the support of the Histadrut's International Relations Division, the conference's opening briefing was given by Reinald Thannisch, Head of the Co-Determination Department at the German trade union federation DGB. Thannisch shared insights from the German policy on workers' representation on company boards, and the DGB's work to promote its implementation. His talk elicited discussion on how the German model could inform an Israeli parallel, in practice and in policy conception.
Thannisch was very generous in sharing the DGB's experience and views on the social and business benefits that German companies enjoy by securing real representation for their workers on company boards. He also shared some of the challenges that the DGB sees in the slowly growing trend of neglect of worker representation in major corporations. For example, Thannisch talked about the importance of creating strong communication channels between "bottom-line" employees and upper management for business sustainability.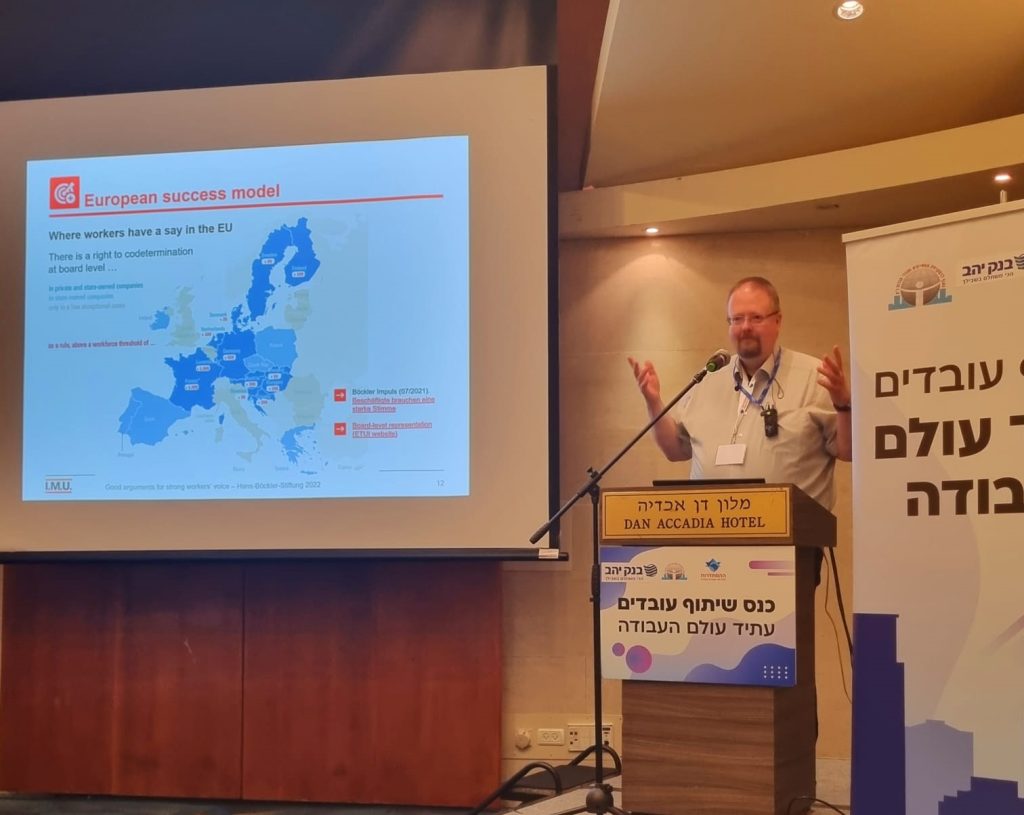 Following Thannisch's briefing, Dr Robbie Nathanson, CEO of the Israeli Macro Center, responded and presented some of the historic attempts to implement workers' representation on company boards in Israel.
The remaining conference seats are expected to discuss current experiences in the Israeli industry and talk about future directions for greater participation of workers in decision-making tables.
The Histadrut's Division for Industrial Democracy is committed to continuing the conversation and to working towards a future where more and more workers have a voice in their workplaces.
Stay tuned for more details and insights from this conference.
Might interest you as well