Novolog Logistics employees launched a 24-hour warning strike.
Employees of the Novolog logistics company in Modi'in opened a 24-hour warning strike this morning.
Following a deadlock in negotiations for a collective agreement and intimidating conduct of senior management towards the worker committee members and representatives of the Histadrut, in an attempt to weaken the workers' unionization.
Although the workers acted by law, Novolog's CEO Eran Taos chose to bring in private security companies in an attempt to intimidate employees and committee members. Novolog Logistics is engaged in importing and distributing drugs and medical equipment to thousands of centers throughout Israel.
The Chairman of the Histadrut's Food and Pharmaceutical Workers' Union, Eliezer Belo: "Novolog Logistics employees are struggling to reach a first collective agreement. The workers are protesting that the management is conducting itself forcefully in negotiations and does not allow progress in any significant clause towards a collective agreement. The workers are determined to reach an agreement with the company. I call on the CEO of the parent company, Eran Taos, to get into the thick of things and sit down with us for negotiations to find an appropriate solution to the issues in dispute. "
The chairwoman of the workers' action committee of Novolog employees, Zehavit Dvash: "Fear and threats will not deter us, on the contrary. We are united and strong and will not give up until we reach a just and balanced agreement, both for the employees and the company. Only together will we win. "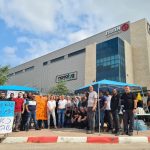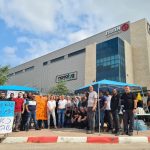 Might interest you as well