Another Update on the Challenges Faced By the Workers of Israel
As the brutal terror attacks by Hamas continue to grip Israel in fear and uncertainty, the nation has transitioned from a state of shock to one of unwavering unity and recruitment to support the war efforts in eradicating Hamas from Gaza. In a little over a week since the tragic events of October 7, the economic shockwaves have reached all sectors of society, prompting grassroots initiatives and cross-sectional support to ensure that all people in Israel endure these challenging times with dignity.
The widespread mobilisation of reserves has left the workforce short of approximately 300,000 individuals. It amounts to 8% of the workforce, now recruited to support the regular army forces. This massive mobilization sees citizens from all walks of life leaving their day jobs and families to answer the call to support their nation.
In the southern regions of Israel, where constant missile attacks target cities like Ashkelon, Sderot, Ofakim and nearby kibbutzim and communities, daily life has ground to a halt.  Key sectors such as agriculture and food production, including major manufacturers like Osem in Sderot, have been forced to halt their operations, raising concerns about the nation's food supply. In areas less frequently targeted, the pervasive threat of violence still looms large, impacting the ability of workers to attend their jobs and engage in any form of commercial activity.
Amid the uncertainty, an announcement by the Home Front Command advising people to maintain a 72-hour supply of food and water in their homes has led to a surge in panic buying. This has further disrupted supply chains, which have come out saying they are functioning at just 25% capacity due to their workers being called up to reserve service, and others unable to reach their workplaces due to missile threats or childcare responsibilities.
The prolonged closure of schools nationwide leaves young children out of their daily routines or any sense of normalcy. They grapple with the relentless wails of alarms, the nerve-wracking shockwaves of Iron Dome interceptions, and the harsh reality of missiles descending upon their communities.
Parents are therefore still compelled to remain at home to provide care and reassurance to their children, as the trauma experienced by our young ones intensifies. The task of shepherding them through these distressing events has grown increasingly intricate, particularly as more harrowing details about the inhumane events of October 7 come to light, and as families spend more time in their homes without the capacity to go outdoors. Parents in Israel find themselves significantly hampered in their ability to fulfil their work responsibilities while tending to their children's emotional well-being and creating some sense of security for their children.
As casualties mount, we receive notice of more and more people and soldiers confirmed dead from the first day of the attack. Grieving families are burying their loved ones and commencing the traditional Jewish mourning period of Shiv'a, a seven-day mourning period at home. Within a week, it seems like no one person in Israel is not mourning the death of a relative, neighbour or friend.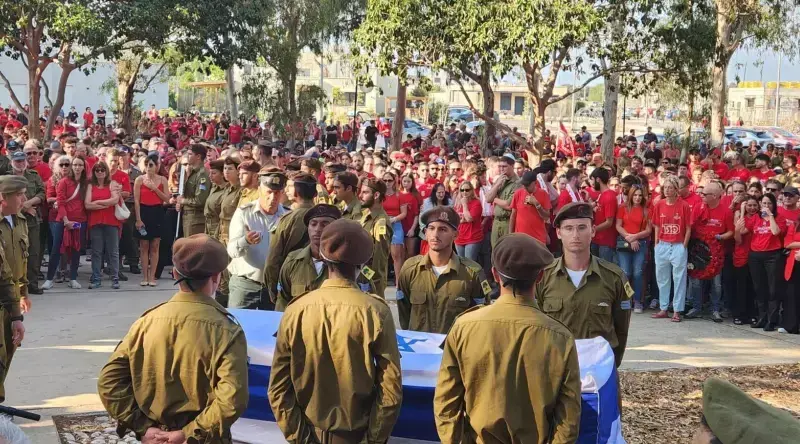 Amidst the influx of sorrow, heroic tales emerge from the southern kibbutzim and communities. These stories of unwavering courage and solidarity in the face of adversity serve as a testament to the unyielding determination of ordinary citizens who, when faced with extraordinary challenges, rise to the occasion with remarkable bravery. These narratives provide hope and reinforce the bond that ties the Israeli people together in times of adversity, reinforcing the belief that we can emerge stronger together.
In response to these trying times, the government has finally heeded the people's calls and established a broader unity government. The extended leadership harnesses the collective wisdom of Israel's representatives in leading the nation through this conflict.
Across Israel, people rally together in entrepreneurial and solidarity missions to assist one another. Donations of food, clothes, and essential provisions are pouring in to support those in need through grassroots initiatives. Temporary housing arrangements for survivors of the terror attacks and families fleeing the war are being organized through private initiatives alongside efforts of the Histadrut and other various organizations and businesses.
In addition to the initiatives aimed at supporting those most affected by Hamas's reign of terror, new organizations are emerging, driven by the families of hostages and missing persons. These organizations are dedicated to rallying the government's support and garnering international attention for the urgent cause of negotiations aimed at securing the return of their loved ones.
As Israel continues to face this grave challenge, its citizens are united in their determination to overcome adversity, displaying remarkable resilience and strength in the face of terror and uncertainty.
Might interest you as well