The heads of workers committees: We will not include Diplomat, Shastovitz, and Kimberly Clark products in the holiday gift packages
The meeting was attended, among others, by the heads of the committees of the Aerospace Industry, Electricity Company, Shufersal, Partner, Mega, Clalit Health Services, Teva, and El Al. Histadrut Chairman Arnon Bar-David: "There are excellent responses from the field. You can't raise prices whenever you want, we're not suckers. Our action is long-term. This is not my protest but all of ours. If the government doesn't make a change, the protest will reach it too"
The struggle for livelihood: Histadrut chairman Arnon Bar-David met today (Tuesday) with the heads of significant workers committees in the economy to discuss further steps. The workers' leaders pledged not to include Diplomat, Shastovitz. and Kimberly Clark products in the coming holiday gift packages.
At the meeting, Bar-David said: "After a week of struggle, we succeeded in raising among workers and citizens consciouses that we are not suckers. You cannot control us and raise prices whenever you want. I am getting excellent responses from the field. The wave of increases has been stopped, but it is not enough. Our move is long-term. This is not my protest but all of ours. It is not possible that prices in Europe and the USA are one-third and two-thirds lower than in Israel. We are the only responsible and stable body in the country; if the government does not create change, the protest will reach it too. I call on the citizens: there is a possibility to change, don't sit at home. Buy smart, buy blue-white."
The meeting was attended by: Yair Katz ( Israel Aerospace Industry), Miko Sarfati (Electricity Company), Eyal Eli (Mega), Prosper Ben Hamo (Klalit Health Services), Keren Ofek (Partner), Yehiel Shemen (Pelephone), Eliran Kozlik (Teva), Vadim Ebenstein (Tax Authority), Rami Ben-Gal (Tel Aviv-Jaffa Municipality), Ariela Siso (Shufersel), Mazal Golan (Ministry of Welfare), Dr. Yuval Mazar (Bank of Israel), Mazal Bobalil (Bank Otsar Ha-Hayal), Roni Garfunkel (Bank Hapoalim), Rafi Kazalkofi (Discount Bank), Roni Raz (Klal Insurance), Eli Badash (Manager and Finance and Paramedical), Moshe Hadad (Rotem Ampert), Shimon Turgeman (Ichilov), Kuti Deri (Wingate Institute), Yaron Zrafati (National Insurance), Limor Lieberman Lavi (Bezeq International) and Sharon Ben Yitzhak (El Al).
Yair Katz from the Israel Aerospace Industry said at the meeting: "This struggle should reach all citizens through our employees. We will remove the boycotted products from all our consumer stores and broadcast to employees to buy smart."

Yuval Mazar from the Bank of Israel stated, "this is an important struggle. We must not let keyboard heroes intimidate our action, and coordination between the workers' committees must be maintained."

Yehiel Shemen from Pelephone added: "The workers need to take to the streets. This is a critical time, and taking to the streets will help this important struggle."
At the same time, for the second day, hundreds of workers and members of the Histadrut, activists, and people from Districts and Noal continue to visit dozens of shopping centers throughout the country. The activists hand out promotional materials, shirts, and reusable bags to consumers for purchasing food, explain to them how to shop smart, and assist in assembling a discounted and accessible basket of products.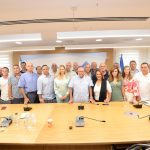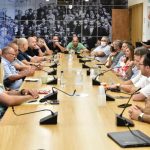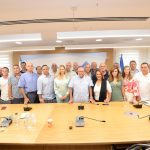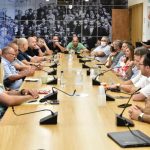 Might interest you as well